Ideas For a Christmas Wedding in the Tropics
Christmas is something I've been used to celebrating without cold and snow.  For most of my life I lived in central Florida where we had the windows open on Christmas day to let the (finally) nice breeze blow in.
It's a great season – in any warm climate – to celebrate any occasion.  A tropical wedding in December means it won't be stifling and muggy and every wedding should be held outdoors in the fresh air.
Because all threats of hurricanes have passed, a cruise is an excellent way to tie the knot.  Even is it's not on a huge luxury liner, there are many options for water cruises in Florida.    I'll bet the same options exist in the islands of the tropics too.
Be smart and book waaaay ahead so the venue will be reserved.  Be sure to tell guests to bring their swimsuits and make the reception a snorkeling and swimming adventure.  What a memory!
Check out these tropical Christmas (or Florida) wedding ideas: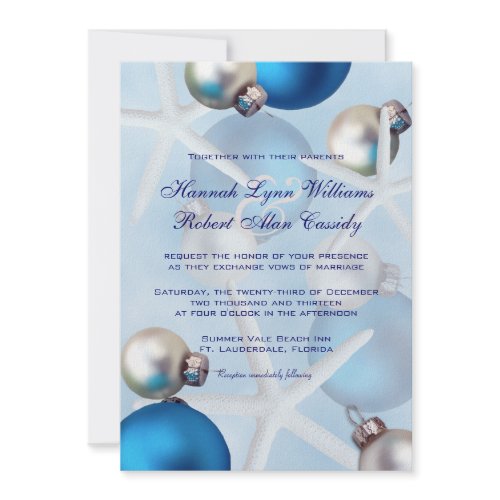 Blue Christmas Starfish Tropical Wedding Invite by sandpiperWedding
We will be happy to help you customize this invitation!