The Reception Wording Depends on Your Plans
Once the formality and seriousness of the wedding ceremony is done, a reception comes next – right? Not so fast. Typically we think of the wedding and reception happening all at once, but sometimes there is a delay between the two. It may be an hour or a month in between. Destination weddings are often times small with only close family and friends attending. A big celebration can happen anytime after the honeymoon.
Likewise, if photos are taken between the ceremony and reception, the reception may be delayed. There are a number of reasons that could delay the reception according to what the newlyweds choose to do. You will have to inform guests early on as to what is expected on wedding day.
Receptions after the ceremony, at the same place as the ceremony can be mentioned at the bottom of the wedding invitation. Most couple's use the text "reception to follow" or similar.
A reception that will take place directly after the wedding, but at another location needs an invitation card enclosure with the name and address and maybe directions too.
Setting up a free, wedding website may be right for you, so enclose a card pointing guests to the URL.
If the reception will be held after the honeymoon the reception invitation will be more like a party invitation.
Now for some examples.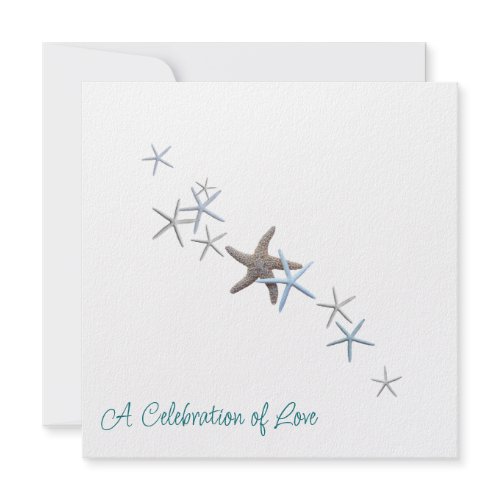 ♥ This wedding invitation (above) includes text at the bottom about the reception.
Lagoon Blue Starfish Reception Party Invitation
♥For a reception planned after the honeymoon. Add a photo (from the honeymoon?) to the front.
Related articles
About Dustytoes
Full time artist and designer at Zazzle. I write about two things I love most, nature in New England and Florida beaches.