Floral Invitation Sets
Popular, tropical flowers lend their beauty to this line of wedding stationery. With many types of paper available, and envelopes included in the price, you will be very happy and proud to send these magnificent and unique invitation sets.
New to our store is the amazing ♥ Bird of Paradise flower.  It's unique, pointy petals and bright coloring made stand-out stationery.
The stunning white flowers of the ♥ Plumeria (also known as Frangipani) are typically found in Hawaii and a little bouquet decorates the light blue cards for an elegant invitation set.
We also have realistic ♥ Hibiscus flowers in red or yellow which can be made with the background color of your choice or the new ♥ Hibiscus Art designs in light blue and pink.
We added the ♥ Stargazer Lily wedding set at the request of a customer and have expanded upon it for those Brides who are in love with the pinkish red Stargazer.
………………….. We Can Help You Change The Wording! ………………………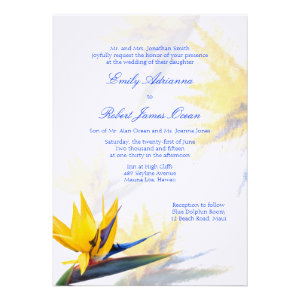 ♥ Bird of Paradise Hawaiian Wedding Invitation
♥ Tropical Blue Hibiscus Art Wedding Invitation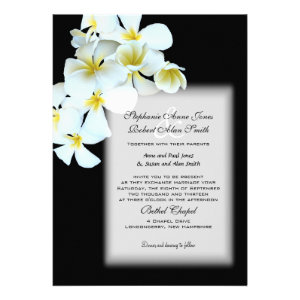 ♥
Plumeria Flourish Custom Wedding Invitation
&
♥
Plumeria Black
~~~~~~~~~~~~~~~~~~~~~~~~~~~~~~~~~~~~~~~~~~~~~~~~~~~~~~

♥ Red Hibiscus Flowers, Custom Wedding Invitation
~~~~~~~~~~~~~~~~~~~~~~~~~~~~~~~~~~~~~~~~~~~~~~~~~~~~